On invitation by SAP in Budapest, members of the ERA-Net Smart Grids Plus Knowledge Community met for their working group on System Architecture and Modelling. Participants from Switzerland, Germany, Hungary, Serbia, Austria, Poland and Spain gathered and discussed existing approaches to Smart Grid architectures. Together with Ludwig Karg, Head of ERA-Net Smart Grids Plus Support Team, they defined the process to support the modelling activities of the ERA-Net Smart Grids Plus projects to come.
The key purpose of the working group is to collect information and turn it into actionable knowledge for researchers and practitioners. A Living Document on System Architecture and Modelling – which will be available on the ERA-Net Smart Grids Plus knowledge platform expera – conveys the findings from the working group to the knowledge community and invites for discussion. As a first step, the working group will provide a consistent terminology and a repository of existing taxonomies, ontologies and reference architectures. The group uses the Smart Grid Architecture Model (SGAM) as developed in the M/490 EC mandate on smart grid standardisation as a guiding model for its operation.
Albana Ilo, Institute of Energy Systems and Electrical Drives (ESEA) at TU Wien, presented her "Energy Supply Chain Net" – holistic model and the smart grid link for an optimised future power system. Slobodan Lukovic from the Advanced Learning and Research Institute of Università della Svizzera Italiana (ALaRI) introduced latest models to describe fault detection and avoidance of failures in the energy system. Fritz Schwarzländer, Energy System expert at SAP, presented practical solutions and ongoing SAP research projects on European and worldwide level. Alexander von Jagwitz, B.A.U.M. senior researcher in EU Future Internet projects Finseny and FINESCE, presented the follow-up project FEN dealing with platforms for the future internet of energy.
Ludwig Karg, facilitator of the working group: "That was a great start. We have an interesting core team from research and industry. Now we are happy to invite participants of the ERA-Net Smart Grids Plus projects. For the venue we even have a choice: we are invited to come to Poland or Spain in spring 2016."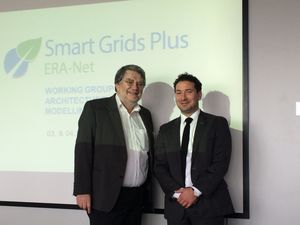 Ludwig Karg, CEO B.A.U.M. Consult and Balazs Ablonczy, Managing Director SAP Hungary
BACK TO NEWS OVERVIEW