By introducing Digital Platform Providers (DPPs) from the ICT domain, business development and governmental institutions, start-ups and small and medium enterprises (SMEs) as well as additional financers and funders, the Joint Programming Platform ERA-Net SES is creating a strong innovation eco-system building bridges along the entire innovation chain.
DPPs often display a layered architecture with highly standardized interfaces between the layers allowing for the implementation of a variety of services on many levels (see Figure). Some provide a comprehensive platform cov-ering 4-5 layers, while others offer more specific solutions, e.g. domain specific enablers and some generic ena-blers which must be combined with elements of other DPPs.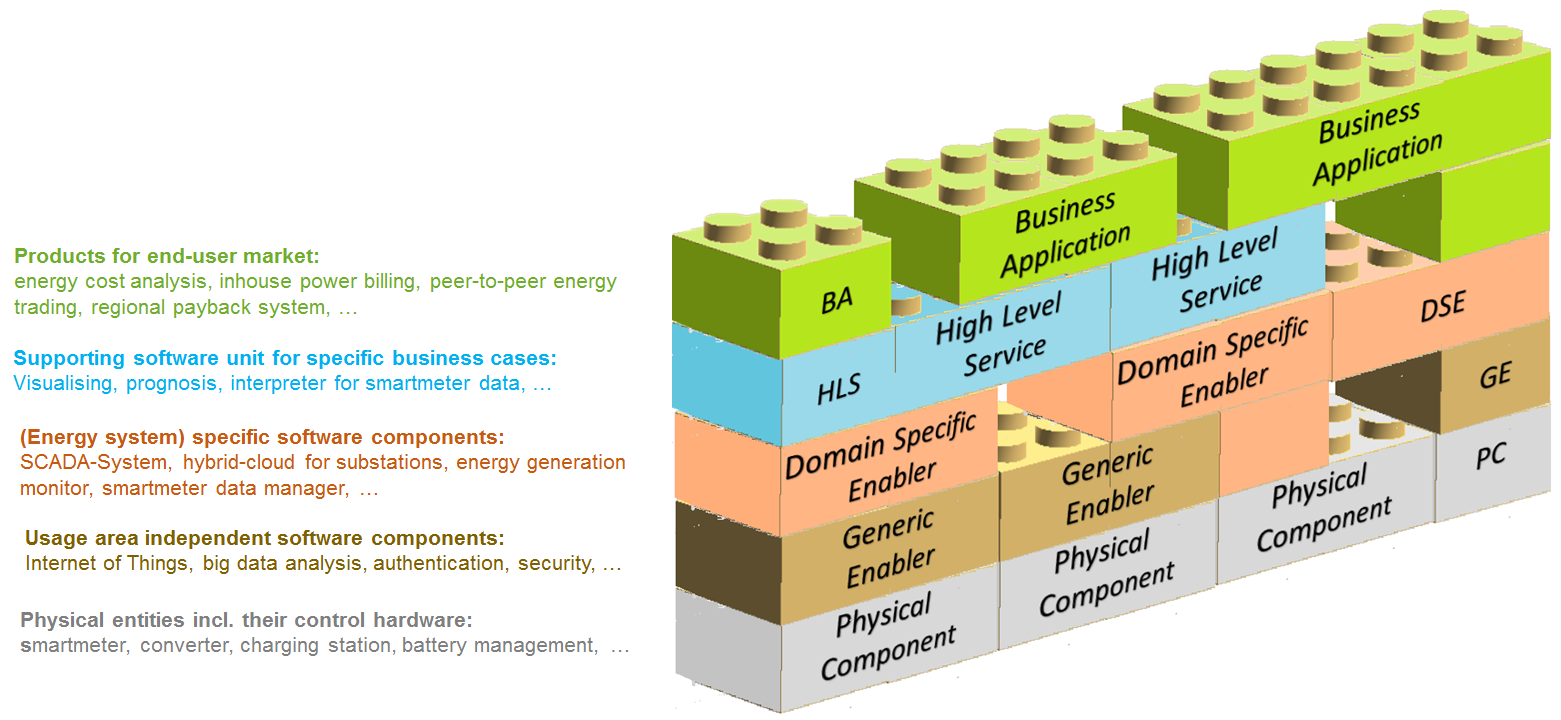 Figure: Layers of platform architectures
Current Digital Platform Providers
We are pleased to introduce the following Digital Platform Providers. Click on a logo for more information.
Partner
Name and Mission
Category
Area
4Cast GmbH & Co. KG
4cast is a renewable power forecasting platform for operators or energy traders using machine learning methodology and meteorological data.
EU
Center Denmark
Center Denmark unifies reseach results from the country''s four major technical universities on the digitalization of energy systems and makes it accessible to industry and other interested parties
Denmark
CGI
CGI is among the largest IT and business consulting firms in the world. It has been delivering end-to-end services and strategic IT solutions to the energy and utility sector for over 40 years
Belgium / Netherlands
ÇÖZÜMTR
CözümTR Payment Systems offers consultancy services, first and foremost for public institutions. Automated Fare Collection and Payment Systems are at the heart of its portfolio
Turkey
Energenius Srl
Energenius is an innovative small-scale start-up that offers a unique offer of energy consultancy by combining hardware market products for energy monitoring systems and advanced software solutions
Italy
EnerIT Innovation Ltd.
EnerIT is an innovative Hungarian-Austrian company with its own novel IoT Smart Energy Portfolio for managing energy consumption and subsequently reducing costs and increasing environmental awareness
Hungary
Engineering DSS GmbH
Engineering DSS designs, develops, and manages innovative digital solutions for modernizing today''s world with a focus on smart energy and utilities. It is also an experienced partner in R&D projects
Germany
Flexens Oy Ab
Flexens paves the way for communities, asset owners, investors, commercial and industrial clients to achieve renewable energy solutions to 100%. Flexens Energy System Design allows for studying various phenomena in the energy market
Finland, Sweden
FlexShape Aps
FlexShape develops software tools to get the best value from available energy flexibility while making processes simple and easy to setup and operate
Denmark
Fraunhofer Institute for Solar Energy Systems ISE
Fraunhofer ISE''s applied and transformative energy system research ranges from materials science to system integration. ISE enables testing, certification and supports industrial implementation and successful market entry.
EU
Gantner Instruments
Gantner Instruments monitors and controls data with fast edge devices for various energy applications - be it PV, EV, battery energy storage, wind or thermal power. By doing so, Gantner enables advanced smart energy services.
Germany
Greenbird Integration Technology
Greenbird provides Utilihive, the Operating System for the Platformed Digital Utility and the Energy Cloud. Utilihive is used by utilities around the world serving more than 50 million consumers
Norway
GreenCom Networks AG
GreenCom Networks is a German-French software-as-a-service company offering a white label Energy IoT Platform to utilities, energy service companies and manufacturers of energy-relevant devices
Germany
Grid Singularity
Grid Singularity is a Berlin-based technology company engineering d3a.io, open source software that simulates and operates custom energy exchanges, creating local marketplaces.
Germany
GridData GmbH
GridData provides services and solutions to DSOs for the digital distribution grid and is a renowned partner in the Horizon 2020 research and innovation programme
Germany
ieco.io
ieco.io offers online simulations for photovoltaic installations for self-consumption and energy communities in Europe. Its integrated online tools address all stakeholders from engineering companies to citizens.
EU
INAVITAS
INAVITAS is an energy intelligence platform addressing utilites, renewables, businesses and homes. INAVITAS intelligence solutions promote efficiency in energy management and guarantee an innovative approach and continuous improvement
Turkey
Infinity Group Sp. z o.o.
Infinity Group is a leading technology agency specialized in clients'' business improvement through optimized digital performance in diverse fields such as finance, telco, energy and entertainment
Poland
Institute of Multidisciplinary Research for Science and Technology from Valahia University of Targoviste
ICSTM-UVT is located in a facility built as a living lab, currently expanding towards a NetZero Campus integrat-ing generation of renewable energy and a building automation and control system (BACS)
Romania
International Energy Research Centre (IERC), Tyndall National Institute
The IERC is a renowned centre in integrated energy systems research . It conducts research in energy effiency and low carbon energy delivery for policy, industry and science
Ireland
Konsorsiyum
Konsorsiyum is a technology provider for energy networks and markets for promoting renewable energy.
Turkey
logarithmo GmbH & Co.KG
logarithmo is a digital platform provider for the development and provision of data-driven services for the ener-gy sector. It can quickly reveal whether energy processes optimization is beneficial
Germany
Lumenaza GmbH
Lumenaza develops software to connect producers and consumers of green distributed energy, providing access to the energy market to everyone, leveraging innovation by a flexible software platform
Germany
nexnet GmbH
Nexnet is one of the leading outsourcing service providers for CRM solutions, billing and credit management, and implements efficient solutions for payment methods, receivables management (financial-) clearing and customer service.
Germany
Omnetric
OMNETRIC delivers technology solutions that improve energy providers' performance by integrating their energy operations with IT to support their business goals
Austria
orangeNXT
OrangeNXT offers an energy-specific IoT product called energyNXT boosting the digital transformation by putting data to smart use and increasing efficiency through fully automated processes
The Netherlands
phoops srl
Phoops core product is BriX, a modular and scalable microservice platform. BriX has been adapted to smart mobility management and also lends itself for applications in smart grids system management
Italy
PiTON
PiTON is a technology provider of system integration in smart city, transportation, agriculture and industry.
Turkey
Resilient Energy
RE is a spin-off H2020 project from the IOT-EPI program and Solar Demonstration Platform focusing on resource consumption management and energy community approaches with and by municipalities
Portugal
Seita Energy Flexibility B.V.
Seita offers & hosts production-proven software for energy management & demand response solutions in modern cloud environments. The software is open-source. We have experience in real-world industry and e-mobility (V2G) settings.
The Netherlands
Smart M Power Ltd
Smart M Power manages and intelligently automates local power-matching transactions. It is a national IEA Award operator and is also bidding in ERA-Net with a system of living labs
Ireland
TSK ELECTRÓNICA Y ELECTRICIDAD S.A.
Founded in 1986, today, TSK is a leading business group in energy monitoring applications. Its main growth strategy is in the field of digitalization of the industry.
Spain
Zaphiro Technologies
Zaphiro is a Swiss start-up supporting resilient power grids by the patented smart grid solution SynchroGuard based on fast and time-synchronized measurements from micro-PMUs
Switzerland